The Platforms were constructed in the summer of 2008. The reasons were:

1) to develop the way of playing that emerged after many years of having the Whalefish as major instrument. From having been thought out as an instrument, increasingly it became the platform for objects that its sound board amplifies. To make an instrument that has this as its main function then seemed necessary.
2) To make it into different parts amplified separately, in order to have the possibility to diffuse the sounds in different directions,
3) to be able to play together with another musician, or possibly more people (there are four platforms at present)
4) to be able to connect separate sources of amplified object sounds to electronic treatment, especially Micro Modulars. This last part is still to be developed, however when I play with other electronic musicians, the combination of amplified objects and electronics that I like works very satisfyingly.

The materials for the soundboards of the Platforms are small doors for cupboards, found at a big store for building materials. To keep them free to vibrate and at the same time stable for acoustic reflection and playing with stability, they're clamped to the table with something between the table and the instruments to keep them slightly above the table surface.

An intermediate version between the Whalefish and the Platforms is the Stranded Whale, left unfinished and only used in one concert.

During the years I've used this system, it has developed very much from its original intentions:

1) The Platforms first seemed to be a hybrid between instrument and an extended contact microphone, able to become a new instrument every time I use it, with attaching objects through screws and rubber bands (which are also used as sound sources of course). But I realized that for me as a musician, it was necessary to have a certain level of conservatism of speed and structure during the development in order to balance between control and safety on one hand, and surprise and chance on the other, so the two Platforms I was using actually became two specific instruments with a slow evolutionary development from concert to concert. You can track some of the changes in the pictures on this page.
2) On my trip to southeast Asia 2012, which combined my work as a piano technician (on a cruise) with the one as a musician (in Kuala Lumpur and Singapore), I had to limit my luggage and decided to bring only one Platform along. It turned out to work perfectly well. Later, I started visiting Berlin so often that I decided to park one Platform in Stockholm and one in Berlin, to make the travels lighter and cheaper (not having to pay for checked-in luggage).
3) I almost never actually played the Platform with others, except in a few instances when I have shared it with other musicians: Kristian Bredin and David Bremer. The two extra Platforms haven't been used yet, they are still waiting.
4) I skipped the idea of plugging in the sounds of amplified objects into electronics – I only made one piece with that idea: using a drone from the Micro Moog, see Beware of Aesthetic Ethics below. I realized that the sounds of amplified objects are so rich and varied that they are perfectly fine as they are. I like to combine them with electronics (and voice, and classical acoustic instruments), however, but since there are so many good musicians specializing in electronics more than I am, it's more interesting to play together with them than doing it myself, although I still like to use the Micro Moog very much.
5) It has often been a problem for me to call myself a "musician" with complete honesty. One is the economic and professional implications of that term, another is the limitation of expressive forms. The work with the Platforms has emphasized this more clearly, and in 2012 I started applying the term "Surrealist Musical Object Theatre" as the most correct descriptive term for it.

Setup and a concert at Tou Scene, Stavanger, December 2012. Photos © by Johannes Bergmark (pre-concert) and Karina W. Gytre (concert photos). (Larger available if requested.)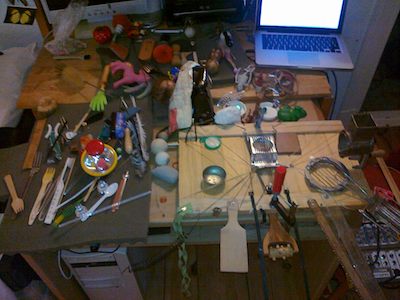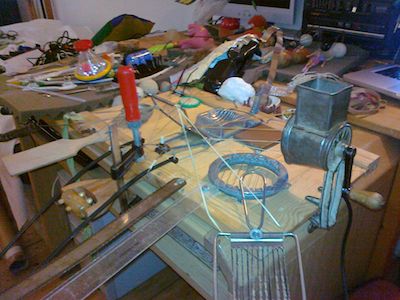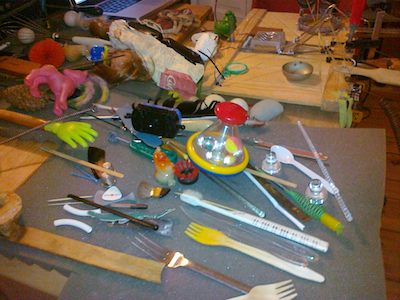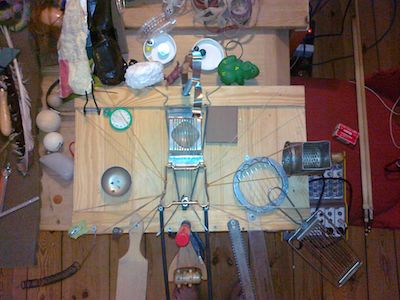 Setup of instruments for online participation from a friend's apartment in Berlin, in Headphones - Hörlursfestival by Lab Gallery, July 2012. Photo © by Johannes Bergmark. (Larger available if requested.)


The above are the results from Deep Wireless "Hug the World Translocal Performance", telematic jam that was part of New Adventures in Sound Art's Deep Wireless May 2012 Festival; 60 artists on 23 locations in 12 countries, organized and directed by Eldad Tsabary and webcast from the Electroacoustic Classroom at Concordia University's Music Department (Montreal), lasting 6h. Can be heard in the above player or here, with more info and pictures (my entries are in parts 7 and 8).

Solo on minimal travel set version of the Platforms at Straits Records, Singapore, April 2012.


Closeup of the limited travel set, from the concert at Straits Records, Singapore, April 2012. Photo © by Yuzuru Maeda. (Larger available if requested.)

Interviewed in Kuala Lumpur after a concert at Findars, organized by Herbal International, Kuala Lumpur, malaysia, April, 2012, with excerpts from the concert.

A concert in February, 2012 at Musikgemaket på Slottet, Halmstad, the INES series, + Live streaming, solo and short talk (swedish), followed by a concert of Sten Sandell – David Stackenäs duo.

Setup for participation in Core, a suite by Lars Bröndum at Fylkingen, February 2012. Photos © by Heiko Purnhagen.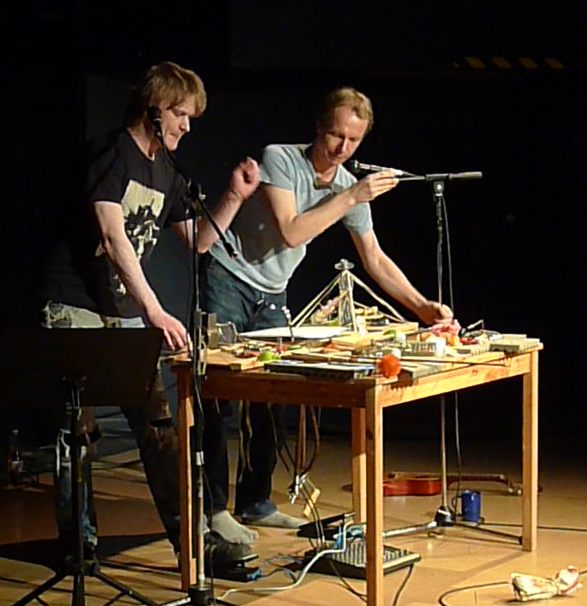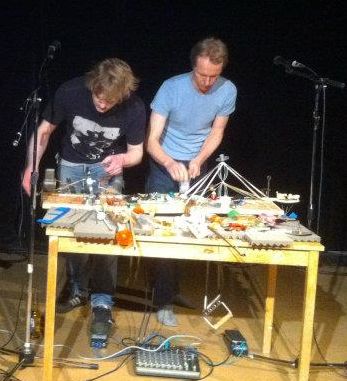 From RÖSTA PÅ FYLKINGEN - liten festival kring rösten (small voice festival) at Fylkingen, November, 2011, one of the very few cases where I have shared the Platforms, in this case together with David Bremer. Photo © by Girilal Baars and Per Åhlund.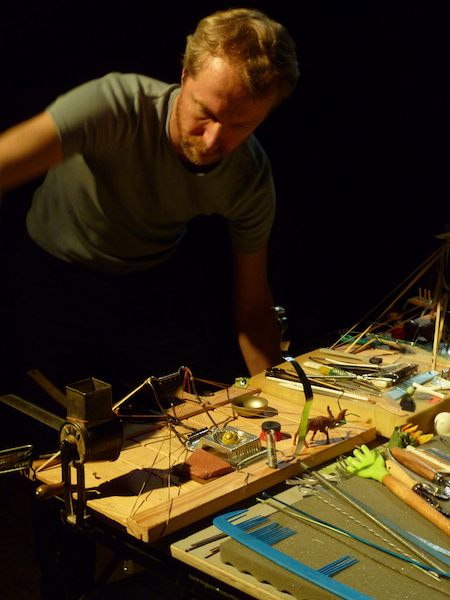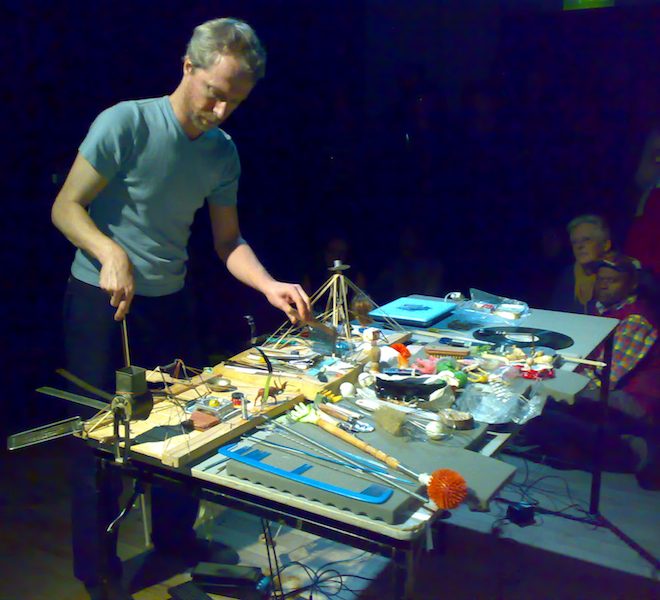 At Colour Out Of Space festival, Old Market, Brighton, November 2011. Photos © by miss e kawasaki and from Alison Amazed's blog. (Larger available if requested.)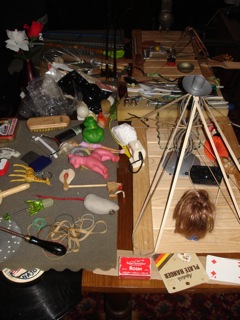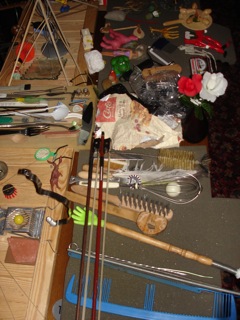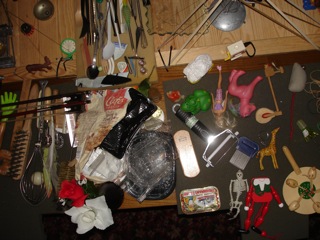 From a concert at The Royal Park, Leeds, arranged by the Leeds Surrealist Group, November 2011. Photos © by Kenneth Cox.

From the Festival Vindöga 11, Sandvikens konsthall och Folkbibliotek, November 2011. Photos © by Daniel Palmberg and Christina Wannberg from Sandvikens konsthall's Flickr set. (Larger available if requested.)

A live recording October 2011.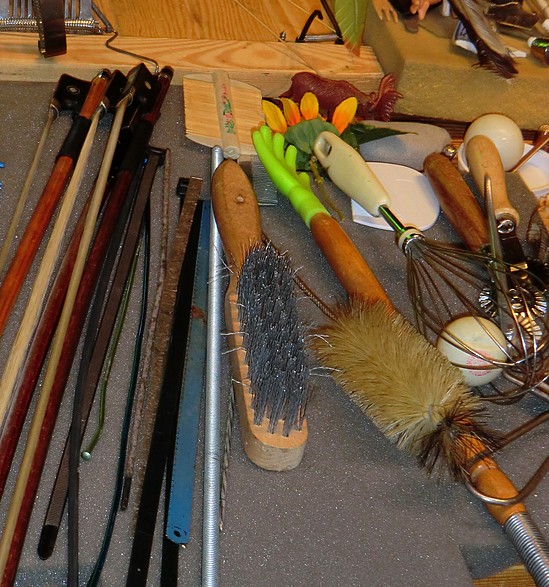 From a concert at Fylkingen, October 2011. Concert review and photos © by Jonas Persson.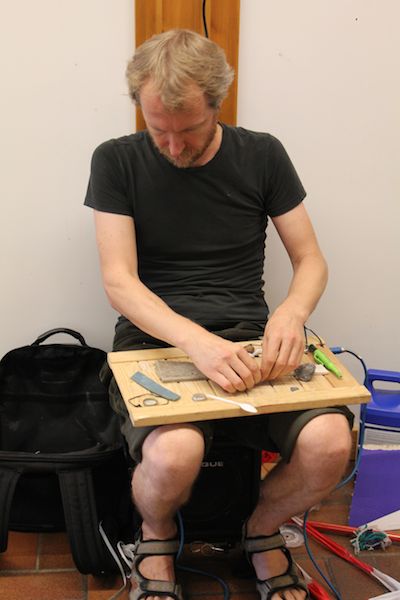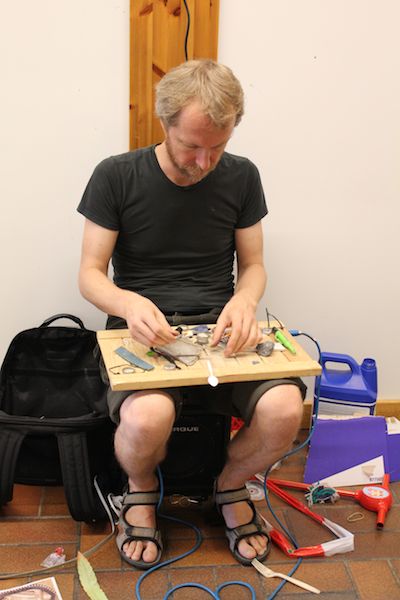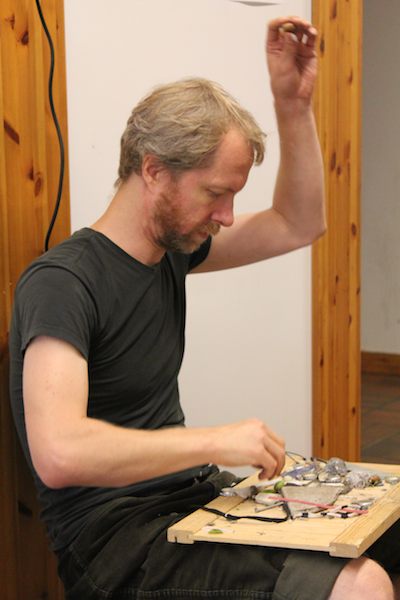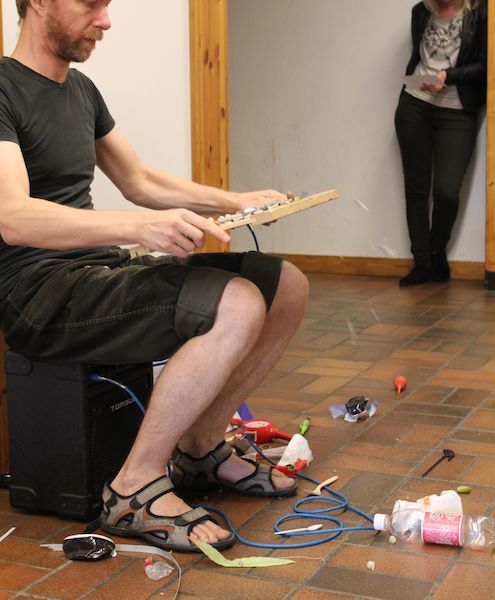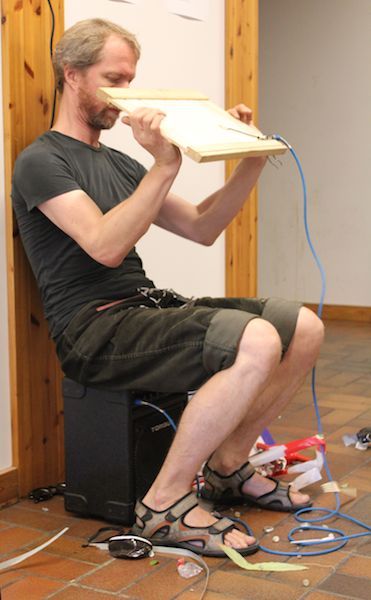 "Ljudletning/Noise search" at No Budget Performance, a Stockholm Odyssey, part of Parabola Artfilmfest, Tensta centrum + foyer Tensta Träff 2011. "Will the people of Tensta give me something to play on? Will I find in the streets? Arriving empty-handed, preparing for a concert with unknown objects in just a couple of hours to create a piece dedicated to the inventiveness of Tensta, the place and the people." Photos © by Denis Romanovski. (Larger available if requested.)

For this cd, released 2010, I was invited to contribute with a one minute piece. I recorded it at EMS and play a Platform (a single one) with objects. I made lots of versions to choose from. This is one that didn't get onto the cd. No overdubs, no cuts, no treatments except slight compression.

Bergmark at Hej då COMA!, solo in protest festival at Växjö Konsthall in support of the closed-down COMA. 2010. Photos © by Hans Parment. (Larger available if requested.)

In this downloadable/streamable celebration album of suRRism Phonoethics: Peak the Source - 'Volume 1-3' / sPE_0100, I have this piece called Beware of Aesthetic Ethics with a Micro Moog drone which is influenced by sounds from my Platforms of amplified objects, recorded at SAMI studio in Stockholm December 2009. No editing.

Before the premiere of Aforism 2 with Quarto Physical Theater at Teater Giljotin. Also the Finger Violin, Micro Moog and saws in the pictures. Photos © by Anna af Sillén de Mesquita. (Larger available if requested.)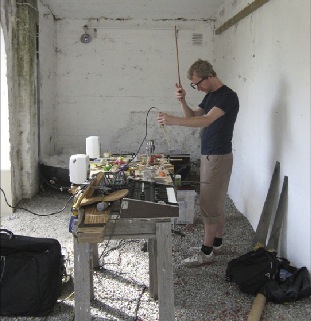 At Grönt Ljud i Hågelbyparken (Ny Musik Stockholm) August 2009. Playing the Brillolin at this moment, and the Finger Violin, Micro Moog and saws in the picture.

First time I shared the Platforms with a colleague: Kristian Bredin, at the Networking Camp concert on Norberg Festival. Photo © by Sabine Vogel.

Playing the Platforms in Turbinhuset at Ljudkonst i Nolhaga Park, Kulturföreningen Tornet, Alingsås, sweden August 30, 2009. Filmed by © Per Åhlund. Also, the Brillolin, Finger Violin, Micro Moog and saws are visible in the picture. Below a still, also by Åhlund. (Larger available if requested.)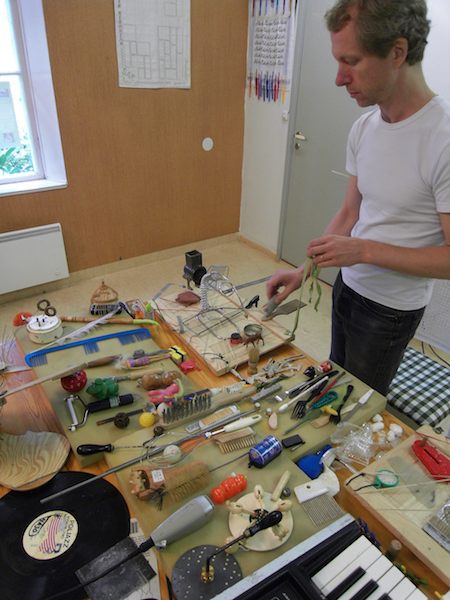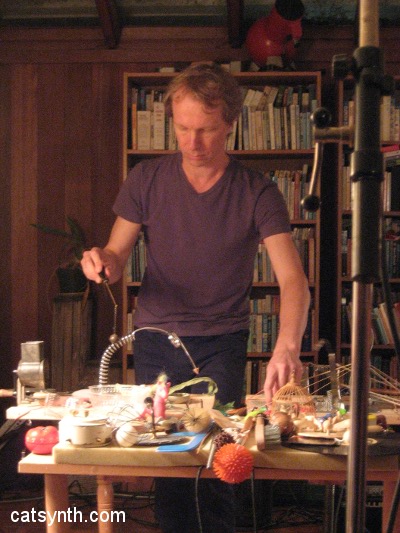 Concert at Tom Duff's, Oakland 2009. Original source here.

Me playing Platforms and Polly Moller (bass flute) play in the California Columbarium at the Chapel of the Chimes, Oakland, CA (21 June, 2009) as part of Garden of Memory 2009, filmed by Gino Robair, who invited us and also, like Tom Duff, participated. Below a detail of the minimal setup, applied to available resources. See part of Gino's score and graves behind. Click on picture for more detail.


Musical instrument setup at Echo Curio (Echo Park, Los Angeles), June 2009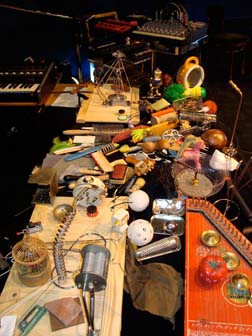 Musical instrument setup, Fylkingen, January 2009

Excerpt from a concert in Apart Festival by Platform4 in Aalborg, denmark 2008.

The Platforms in their setting around October 2008, among objects, zither, bass guitar and Micro Modulars.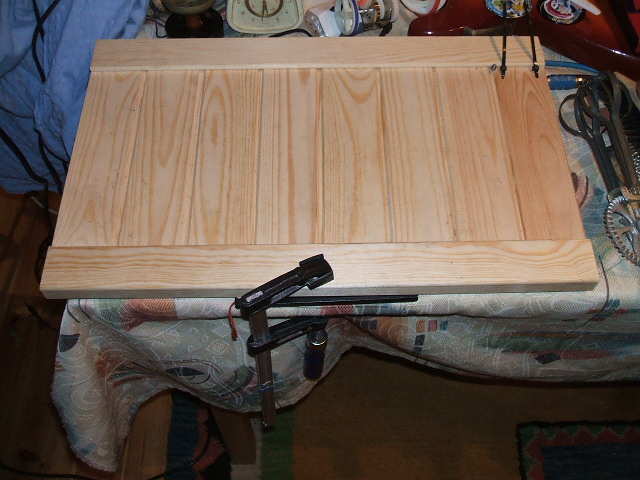 The basis of the Platform around October 2008, "naked".
Here are three short examples of some sounds from this setup, recorded for a surrealist game. [Open in an external window.]
---
The Gallery
Updated the 10th of May, 2017.