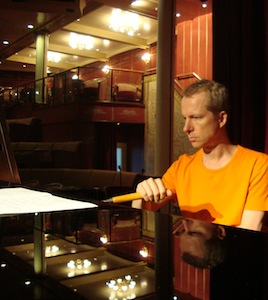 I do piano tunings, action regulations, repairs on and give advice about your grand or upright (vertical) piano. If you have old or historical keyboard instruments (square pianos, harpsichords, spinets or clavichords) or electroacoustic ones like the clavinet or electric piano, I also know much about these.
A piano tuning normally costs 1800 SEK including VAT.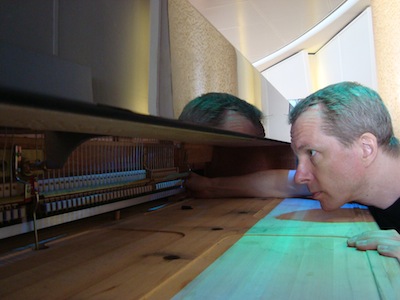 Other work costs 900 SEK / hour including VAT.
E.g., I offer a simple "first aid" action regulation including minor repairs for an hour's work.
I live and work in the Stockholm, Göteborg and Bohuslän (with a base in Gerlesborg) areas in sweden.
I don't: buy, sell, estimate values of, varnish or transport pianos.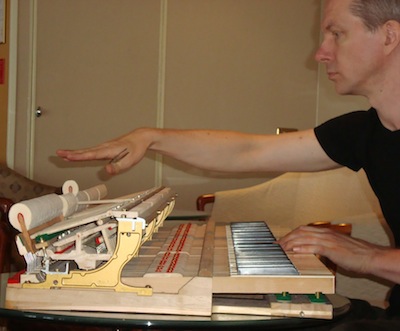 Educations:
1991-92: At the time sweden's only education for piano technicians, Pianoteknikerlinjen (now closed down) at Hantverkets Folkhögskola (later changed to Företagarnas Folkhögskola but nowadays Leksand Folkhögskola) in Leksand. Teacher: Mats Ferner.
1992-96: At the time Scandinavia's only piano- and cembalo builders' education that leads to a german Qualifying Piece of Work (Gesellenbrief): Musikk Instrument Akademiet in Moss, norway (then closed down but restarted in Sarpsborg). Teachers: Odd Aanstad, Knut Tore Bakken and Dr Alastair Laurence (the very piano tuner of the brittish queen), who had his own piano factory in england and then in norway.
My Qualifying Piece of Work (which makes me a Journeyman) was made in 1996 in Klingenthal, germany, where I also got education from the Meister Peter Schlosser, who has his own piano production. The Gesellenbrief had the character "gut bestanden", which is a good grade.
I am also interested in historical keyboard instruments and have, among other things, built a large clavichord (18th century type) under the direction of Hans Erik Svensson and with a support from the grant fund for musical instrument technicians of the Royal Swedish Music Academy (Kungliga Musikaliska Akademien). I also built a small medival-style bound clavichord in the education in norway under the guidance of my teacher Odd Aanstad.
---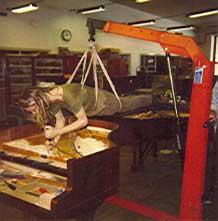 Grinding the soundboard of a grand piano where it's difficult to reach!
(Action photo from the education in Leksand. Not to be taken seriously!)
Photo: © Göran Kunstbergs
Other contacts
More about me
Updated the 21st of December, 2022.