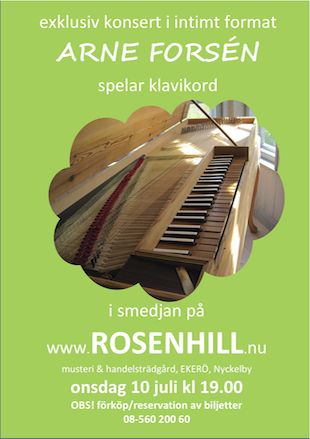 The Clavichords.
I built a 18th centure style clavichord under the guidance of Hans-Erik Svensson at the Marholmen courses around 1992, and a small medival-style bound clavichord under the guidance of my teacher Odd Aanstad, when I studied to a piano and cembalo builder at Musikk Instrument Akademiet in norway (now closed down). I never played them in public but treasured them at home as the wonderful instruments they are. When I changed apartment 2011, I decided to deposit them with musicians that were interested in using them. The small one is deposited with composer and musician Eva Sidén; the big one with composer/musician Arne Forsén.
In 2013, I'm very happy that Arne premieres the clavichord in a concert at Rosenhill Trädgård, Café och Musteri in Ekerö outside Stockholm. The poster, with a portrait of the instrument, can be seen to the left. He will play music by J S Bach, Gesualdo da Venosa, Ulf Åkerhielm a.o. His description for the concert will do fine for me:
The clavichord is perhaps an unknown instrument for most people, you could describe it as a precursor to the harpsichord. From the 14th to the early 19th centuries, it was mostly used as an instrument in the homes and as a practice instrument for organ players a.o. It has a delicate, small sound and is extremely soft, which demands a special consert situation. The rebuilt furnace at Rosenhill has the perfect conditions in order to create the intimate atmosphere that is needed.
---