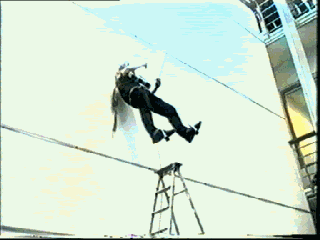 Photo from video © by Alejandro Vega-Fredes at HDK, Göteborg '95.
The Stringed Stirrups (formerly called the Angel Strings) is literally walking on a vertical tightrope. I am playing two piano strings that are suspended from the ceiling, with me hanging in the lower end. The strings go through loops on a resonator (like the Butter Bass) that is tied around my chest. I give tension to the strings with my weight between the feet that stand in stirrups attached in the lower end of the strings. It is played with two bows and specially made wooden beaters. Sometimes the longitudinal vibrations of the strings are excited. It is amplified with a contact microphone.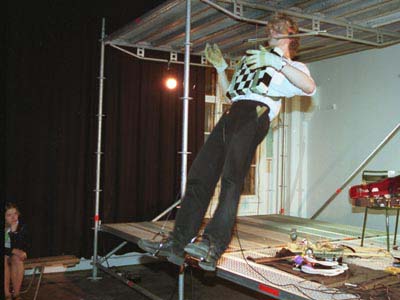 Playing the Stringed Stirrups at Exit International Festival for Unusual Live Performances in Helsinki, finland.