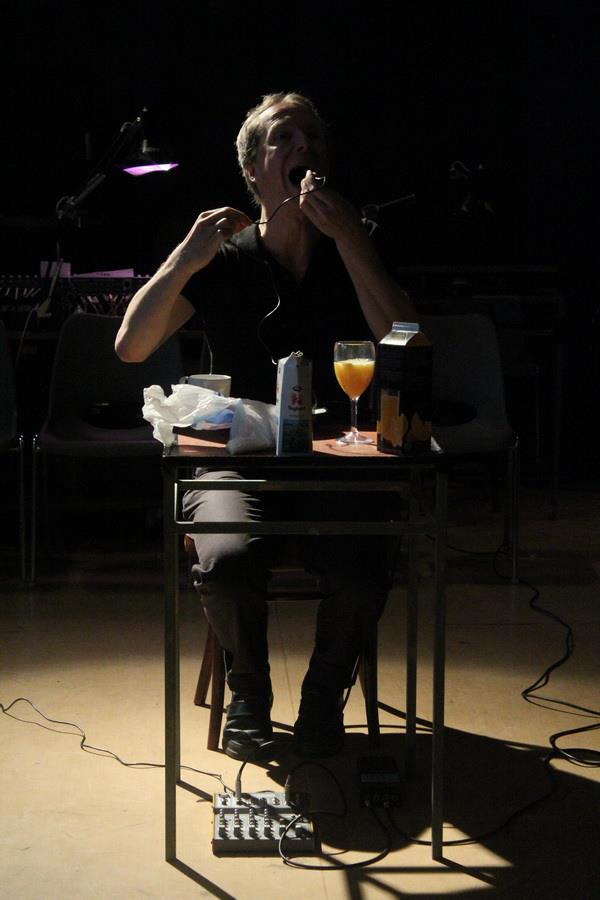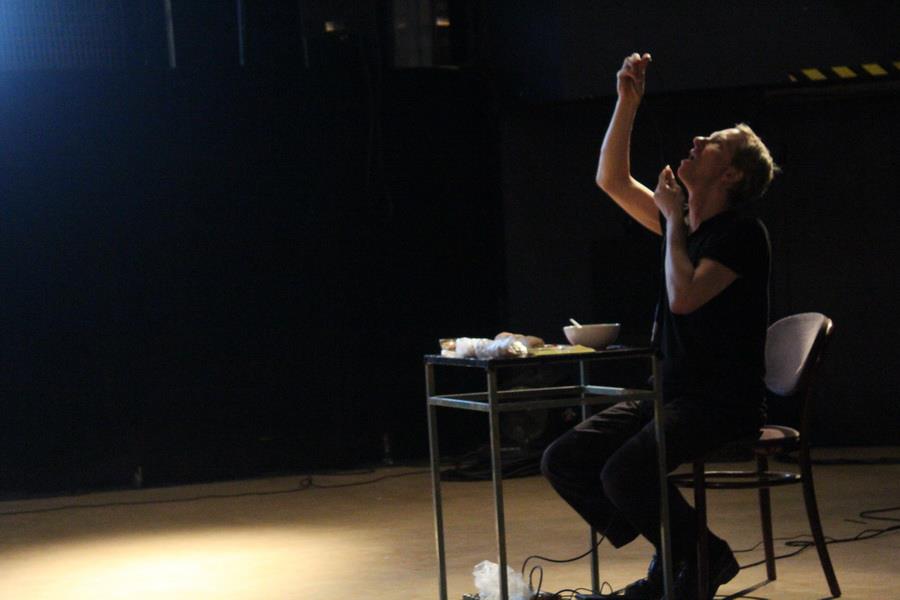 "A performance of about 10 minutes, repeated at different times during the day, belonging to meals: breakfast, coffee break, lunch, dinner, supper.
As I swallowed a contact mike (covered in silicon glue), the audience heard my stomach devour the different meals during the day."
Photos left © by Denis Romanovski.
Photos right © by Johannes Bergmark.
Description:
I swallow a contact mike (covered in silicon glue), and the audience hears my stomach devour different things (carbonized drink, popper candy etc), my heartbeat and my breathing (agitated by physical work) as they sound from inside the stomach.
Premiere at PERFORMANCE ART LINKS - International Performance Art Festival at Fylkingen, the last day, 2012-04-22, which had the theme "The Performance Art guide to ordinary life" – A day long performance art series which leads the audience through daily routines, by and with the festival artists, Fylkingen members and students.
Also performed at:
CREATurE Live Art Festival 2013, Fluxus Ministerija in Kaunas, lt;
Month of Performance Art-Berlin Annual Winter-Warmer Bash party at West Germany, Berlin 2014;
Tempting Failure 2016, Day 7, Hackney Showroom, Hackney Downs Studios, London;
Colour Out of Space 7, International Festival of Experimental Sound and Art, Sallis Benney Theatre, Brighton, england 2016;
KRAAK festival, Beursschouwburg, Brussels be: (one of three performances): Gouden zaal 2017;
TGC (Tetra Gamma Circulaire) #3 / MAT>NET>PU, DE PLAYER, Rotterdam nl 2017;
Scheduled to be performed at:
Festival-congress on fieldrecordings, 3-5 Nov. 2017, Bremen, de.