The Stringed Stirrups (formerly called the Angel Strings) is literally walking on a vertical tightrope. I am playing two piano strings that are suspended from the ceiling, with me hanging in the lower end. The strings go through loops on a resonator (like the Butter Bass) that is tied around my chest. I give tension to the strings with my weight between the feet that stand in stirrups attached in the lower end of the strings. It is played with two bows and specially made wooden beaters. Sometimes the longitudinal vibrations of the strings are excited. It is amplified with a contact microphone.
| | |
| --- | --- |
| To the right: pictures from setup for the above performance at the old Southern Crane, Halmstad, with Ann-Louise Liljedahl and Mikael Ericsson; the building of my third version of the Stringed Stirrups (where I used the old water tower as a workshop), and the performance at the crane there in collaboration with them, within Sound at Nissan, Halmstad 2016, organizer: Harp Art Lab. Photos © by me and (coming later) Mikael Ericsson. | |
Pictures from performance at Tempting Failure 2016, Day 7, at Hackney Showroom, Hackney Downs Studios, London. Photos © by Julia Bauer and supported by Tempting Failure CIC and Arts Council England
I also performed I Have Been In You, You Have Been In Me there.
Preview in Cusp Magazine, see listing #8..


Las delicias improvisadas, interview/article by Nacho Díaz.
Pictures from setup and performance at BZZZ International Sound Art Festival 2016, "Songs From The Lower Floor", Harplinge Mill, arr: Harp Art Lab. Photos © by me and Mikael Ericsson
Still from when playing the Stringed Stirrups at Tou Scene, Ny Musikk, Stavanger, norway 2002. Then, when you click play, you will see me briefly explain (in swedish) how I got the idea to the Stringed Stirrups, in front of a recording from Oslo Impro 1997. Then, a clip where I perform the Stringed Stirrups at MAF/Ungdomens Hus on Högriskfestivalen, Malmö 2002. For best sound, please use good speakers or headphones! Those good low notes don't come through on small computer speakers...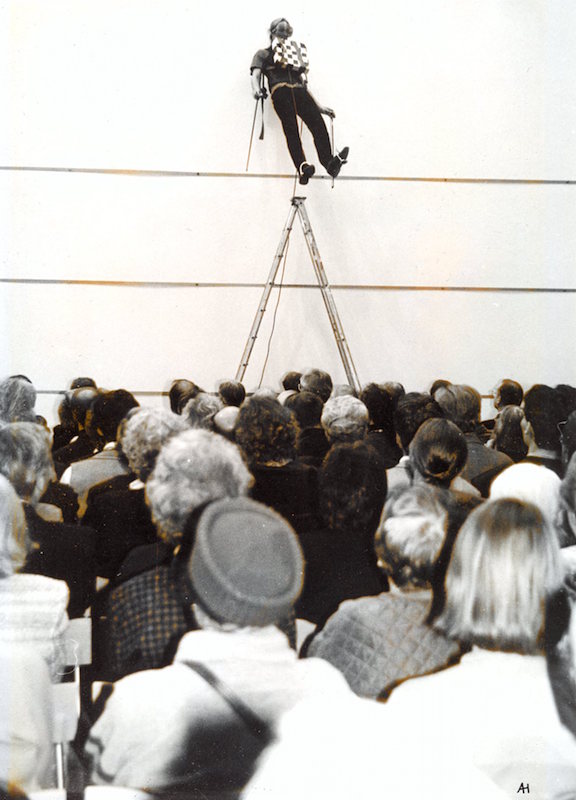 Stringed Stirrups at HDK, Göteborg 1995. Photo: unknown. Thanks to Elsa Bergh for this photo, 20 years after the event!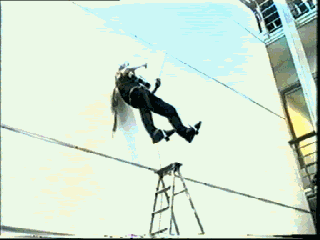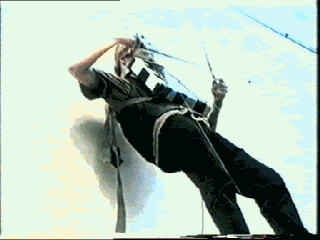 Stills from video © by Alejandro Vega-Fredes at HDK, Göteborg 1995.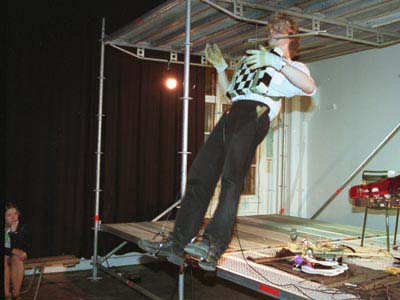 Playing the Stringed Stirrups at Exit International Festival for Unusual Live Performances in Helsinki, finland.
A closer look at the instrument itself, from Bomuldsfabriken, Arendal, norway.
Bergmark playing the Stringed Stirrups in OSLO IMPRO 1997, photo © by Gudrun Edel-Rösnes.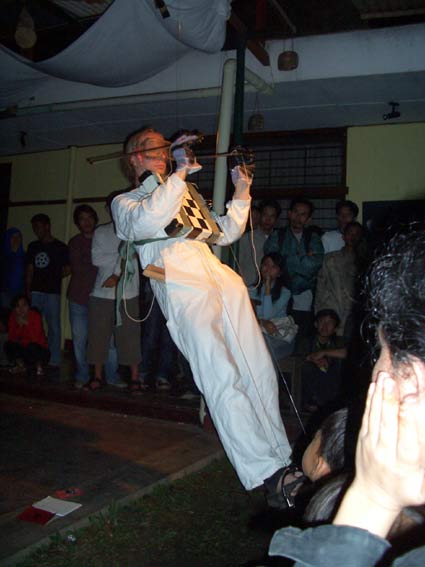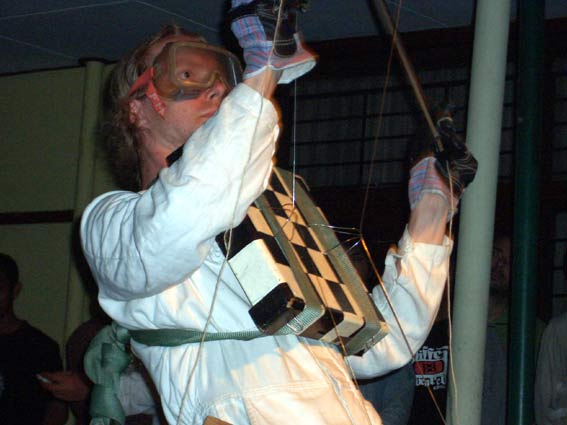 From the festival B+PAC in Bandung, indonesia april 2004; photos © by Arai Shin-ichi, japan.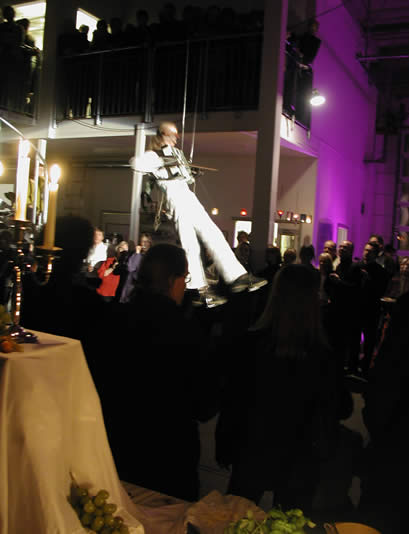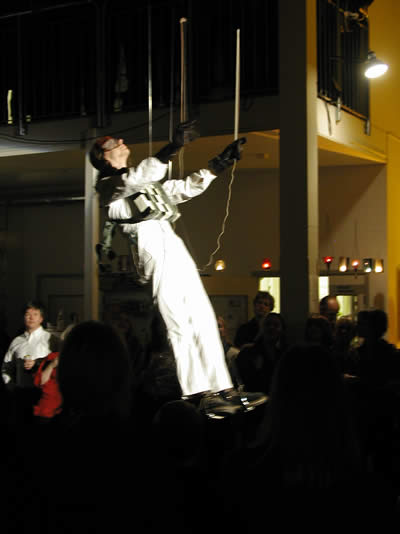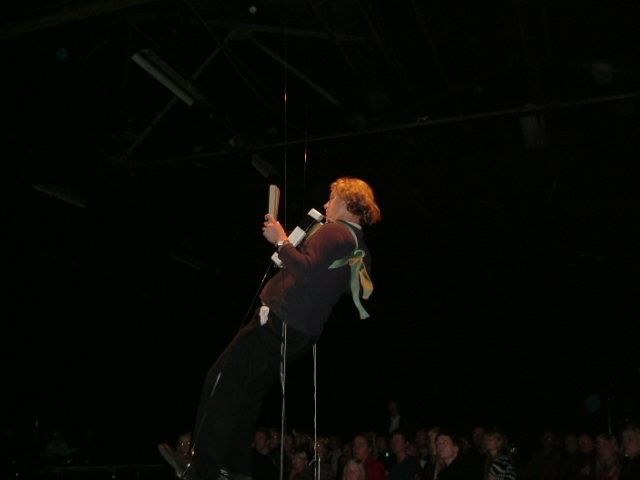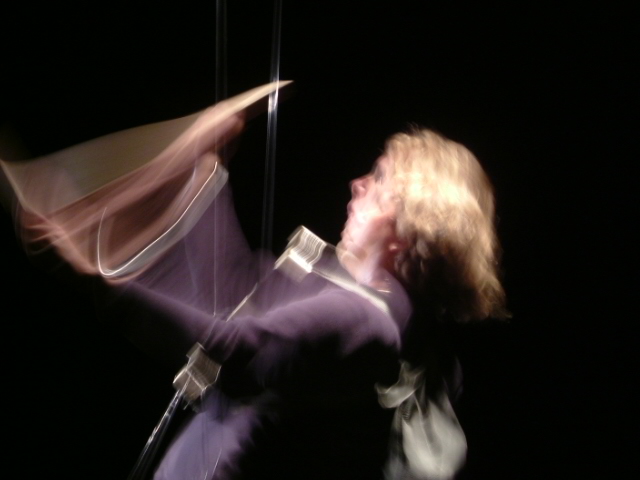 Look at a performance with the Stringed Stirrups in streaming video from the Splintermind web page! At about 8 minutes, something dramatic happens... This is from a Lava, Kulturhuset concert, Stockholm 2001. [The link doesn't work right now, I'm checking out how to find this clip at present.]
Listen to the Stringed Stirrups in Real Audio.
Fragments of the performance at Alytus Biennial 1, International festival of experimental art, BEWARE! POLITICS!, Alytus, lithuania, Friday August 26.
From 8th OKNO international meetings of young theatre 2004 (part 2) (at Teatr Kana, Szczecin, pl). From 1'52 to 2'33 a clip from "Stringed Stirrups".
---