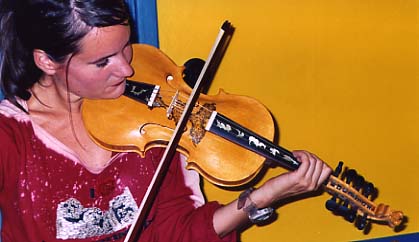 My collegue the violinist Jonna Sandell playing my Hardanger Fiddle
The Hardanger Fiddle. The traditional norwegian folk violin, "Hardanger Fiddle" or Hardingfela. I made it at the MIA school in norway. The head and painted pattern on the finger board and body are mine. I didn't like the traditional pattern so much.

One funny thing with the Hardanger Fiddle is that it's a bit uncertain what origin it has. In the european tradition, sympathetic strings make you think about the italian Viola d'amore, but norway, being so close to britain, could well have the idea from india, where sympathetic strings is the rule for the sitar as well as for the vina!