På svenska.
Tape piece, 13:02

First performed on the PolarE-concert in Rålambshovsparken 2001, arr. EMS. Sören Runolf did a live treatment version during the support concert for John Duncan's Stockholm visit, Fylkingen 2002.

The Singing Coffin is an instrument that was in a dream by my friend Petra Mandal and I built it after her instructions: a box in body length with strings on, that you are lying inside, singing. By the mouth, you have a microphone, from which the signal is doubled to a number of small piezo speakers, lying on the strings. I discovered that this easily leads to a feedback sound that you can play on with the mixer knobs. This is a treated recording of that sound, made at the EMS studio.
The piece also exists in a 52 minute version and a 5.37-minutes version on the Elgaland-Vargaland 10 years anniversary double cd which was released on Ash International: KREV X MM11, editors: JP Wozencroft & MSCHarding, England 2002.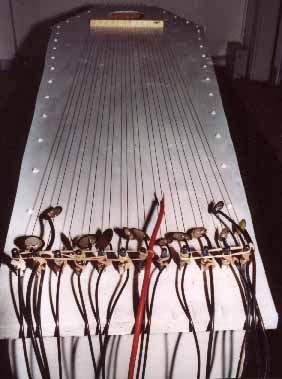 ---
Compositions
Updated the 16th of June, 2015.