Performances made (and some not): FRIMs Improbar (Stockholm) '01.

FRIMs Vårflod 2001.
"But Fågelpingis was an unusually successful combination with Tomas Halling - recitation, trombone and drums etc, Johannes Bergmark - special instruments and analogue synth, and Jacob Ullberger with banjo and voice. Halling's, mildly put, special exuberance, ended up in the right setting as he got the others to join him in his special form of improvisation. Among the highlights were a hihat trick I refrain from trying to describe, but was also all the time controlled and musical, especially in a purely instrumental piece. Bergmark played all his different instruments, and Ullberger stood for the continuity." Mats Öljare, "11-13 maj 2001"

The Party, Arkitekturmuséet´s Trädgård, Skeppsholmen, Stockholm, Sunday 19th of August '01.

Participation in The show that god never asked for, Fylkingen easter '02.



Gag in Räserbyrån presents Tärrier at Fylkingen! 20/4 '02.

SEKT 20/5 '02.

Cooperation with Gud1 Modul12 at Saltholmenfestivalen, Göteborg, 20/8 '02 (with Per Selander synth sax etc and Carin Westman voice etc).

Brötz/Now, Göteborg 30/10 '02: Fågelpingis möter Gud1 Modul12.

Cooperation with the trio Gud1 Modul12 (Tomas Halling is the common person) was started with great success in slow driving at Saltholmenfestivalen. This, in all respects unlikely quintet threw up terribilities in their great Unboiled Orgy SÄTESBJUDNING at Hagateatern (ex- Lilla Teatern) in Göteborg the 2nd - 3rd of May '03. Unfortunately Per Selander was absent because of illness.



Performance of SÄTESBJUDNING (at Fylkingen) (This is why.)


Sound & Noise, FRIM-festival 28/7 '03.

Fågelpingis at Broscenen, Skeppsholmen 2002.

Participation in Interakt's new year's party at Fylkingen 31 dec '03.

Tour in sweden and København, March -04, with Hugh Metcalfe (UK, violin, guitar, hihat, bass drum, gas mask, films etc):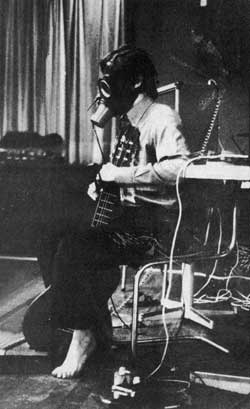 Stockholm 15/3, Sekt, Alcazar/Nalen.
Linköping 17/3 Lunnevads Folkhögskola..
Linköping 17/3, Skylten.
Eskilstuna 18/3 Café Kaka, Arr: Memento.
Göteborg 19/3, 240 kubik; also Katrin von Rettig, artist and performance artist, Stockholm: "Spam Mass".
Oslo 20/3, Hausmania.
The planned venue, the cultural activity house Hausmania, was threatened to be evacuated and torn down, and for security reasons they closed the house for all public activities before the fight with the house owner, conservative politicians and the commercial interests.
Köpenhamn 22/3, Musikcaféen, Huset Magstræde; Surprise guest minimal performance: Tore Honoré Bøe (a free night off his tour with Einstürzende Neubauten). Arr: Kanten.
Lund 24/3 Kafé Klingsor, Lilla Teatern; Also a.o. the performance artist Pär Thörn: "Tribut To Y.O.".
Fågelpingis took a break a couple of years but then made a comeback at:
Fylkingen, Stockholm, a concert shared with a colleague, 9/1 '09.
Innebandybaby, Göteborg, 27/8 '09.
A second comeback at Fylkingen, Stockholm! 25/9 '11


Facebook-event
Fågelpingis spent three days, concluded with a concert on January 17th '13, at Fylkingen, in order to record a new cd.


Facebook event
In the form of Fåpingis (Few Table Tennis) (with one person missing):
FRIMs Improbar (Stockholm) '02 (Halling away).
Memento, Eskilstuna, 24/3 '02 (Bergmark on the hospital with a broken arm).
Högriskfestivalen (High Risk Festival), MAF/Ungdomens Hus, Malmö 29/3 '03 (Ullberger away).
Johannes 40-years party, Stockholm 15/11 '03 (Bergmark in the audience).
Opening party, "Sjukdom", Studio 44, Stockholm 20/11 '04 (Ullberger away).
Festival Artistów Ulicy (Festival of Street Artists) organized by Teatr Kana, Szczecin, PL, 9/7 '05 (Halling missing).
JoHaHa (with Fredrik Hagstedt and Tomas Halling): Källan at Kinna Teater and Café Skrädderiet, 30/9 '10 (Ullberger missing).
JoHaHa at Kulturnatta, Stadsbiblioteket in Göteborg 1/10 '10 (Ullberger missing).
JoHaHa at Konstmuseet Göteborg 3/10 '10 (Ullberger missing).