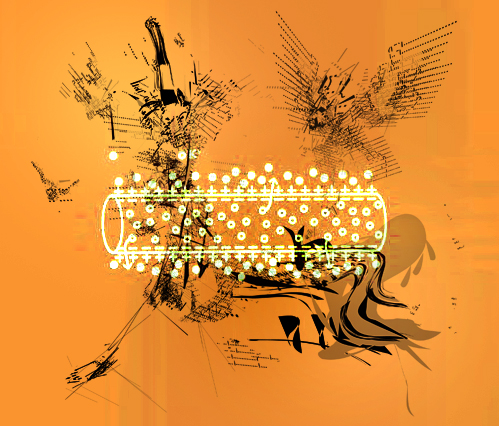 Image © by Kio Griffith.
EROTIC BOULDERS
Johannes Bergmark amplified found objects
Damian Bisciglia amplified found and modified objects, electronics
Mitchell Brown analog electronics
Joseph Hammer real-time tape loops, electronics
Erotic Boulders came out of the mail contact between Bergmark and Bisciglia (connected through Adam Bohman in London). When Bergmark had a solo tour on the US West Coast in 2005, Bisciglia put Bergmark in touch with his collaborators in Erotic Boulders, Brown and Hammer for a concert at the Open Gate Concert Series at Eagle Rock Cultural Community Center in Los Angeles, CA. Bisciglia very rarely plays in public, but the next year he made one of those rare exceptions for the premiere of Exotic Boulders, an expansion of the other group with Bergmark, after some recording sessions in Brown's home studio. The pictures on this page are taken at that concert.
In 2009, Erotic Boulders (now taking back the former name) played another set of gigs in California, on Echo Curio (Echo Park, Los Angeles), Club Dingaling at Hyperion Tavern (Silver Lake, Los Angeles), on the radio shows The Kids are Alright hosted by Professor Cantaloupe with a bunch of kids and adult passers-by; and Glossolalia on KXLU 88.9 fm in Los Angeles and live stream, and Composers Decomposed series at Heco's Palace, Oakland. They were then expanded with the guests Kio Griffith and Bobby Loachfillet.
In December, 2012, Damian Bisciglia died. I wrote this little tribute to him. My hope is that Erotic Boulders will continue in one way or another, through live playing, and the recordings we did and planned to release. Meanwhile, this web site will remain up as it is.