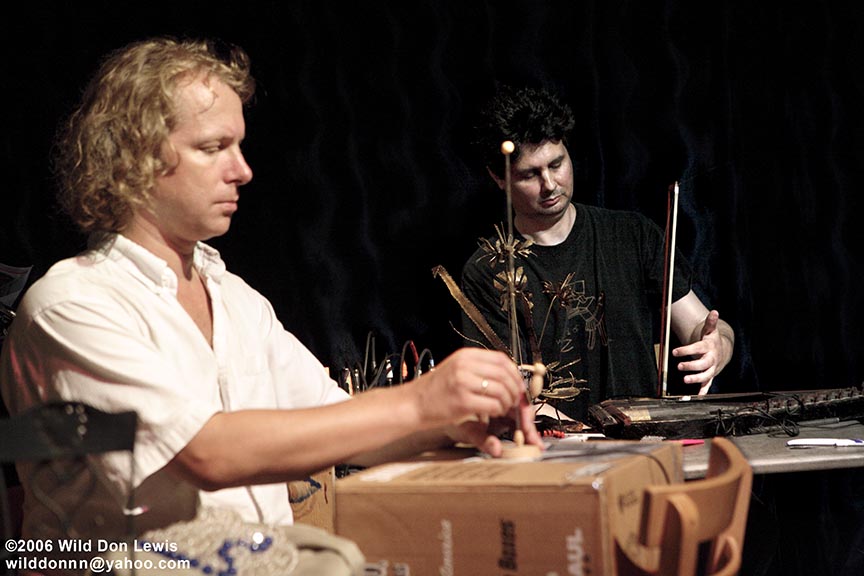 Me and Damian Bisciglia playing live for the first time in 2006.
Damian Bisciglia 1960-2012
In mid-December 2012, we were reached by the terrible news that Damian Bisciglia passed away in Los Angeles, California.
Damian introduced himself to me with a package that arrived in the mail in the 1990's. It contained a cassette of compiled interesting unusual sounds and music from a wide variety of obscure sources, and a sculpture made of found pieces of dolls' arms and legs, shells and painted into a delightful monster. I was astonished and flattered to have received this gift from someone I hadn't even heard of. It took a while before I realized that this monster sculpture actually was an elaborated cassette cover. When I played the cassette, out came wonderful, intriguing, inspiring harsch sounds that I immediately fell in love and felt at home with.
Not surprisingly, it turned out that Damian had heard of me through our likeminded spirit brother Adam Bohman in London. Adam was also at the time busy connecting and collaborating with people that interested him through the means of home-made cassettes with as interesting home-made covers with handwritten notes, bizarre collages and hand-painted.
The difference was that Damian very rarely, in spite of many opportunities, overcame his reluctance to performing in public, and he never, as far as I know, took an airplane anywhere. I would have liked to bring him over to europe, but that would have been on a ship if it happened. Unfortunately, it never did. I got the chance to meet him for the first time on my visit to LA in 2005. He was my main contact to any people over there (except for the great drummer Thomas Magee, that I had met already in 1990), and he put me in touch with his wonderful collaborators Mitchell Brown and Joseph Hammer, with whom I had a gig. Damian said simply that he doesn't play in public. Instead, I went to his place and we had a duo recording session together.
The next year I came back and stayed for a few months at Mitch's place. We had collective recording sessions then, and actually played in public under the name Erotic (or Exotic) Boulders, including Damian actually live on stage (see photo above of the two of us), which was a very rare occasion. It wasn't the last one, and it seemed to me that he would gradually come out in the open more than before. We also played in public three times, in different settings and different places, on my next visit to the West Coast in 2009. New collaborators, added to the old ones, were Kio Griffith and Matt Piper.
We were planning a release of the recordings on his Spagyric label ...
I know that Adam Bohman came over as well, to meet and record with Damian.
Damian is my favorite kind of musician, and one of my favorites around the world of home-made instrumentalists. Describing his music as somewhere between free improvisation and musique concrète, his recordings and sound collages, often containing the sound of crude home-made instruments, are among the most exciting I've heard. His kind is of the utopian character that I feel so attracted to, of the excited curiosity for the basic raw materials of sounding matter and making the music directly from there, treating discarded traditional instruments like the zither in the same way as found decorative metal sculptures and other trash that can be recycled into a new life of sonic excitement and often bizarre weirdness. Kindred spirits like e.g. Adam Bohman, Hal Rammel, Martin Klapper, Dylan Nyoukis, William Davison, i'd m thfft able and Hugh Davies, all with their very special individualities and sensibilities are to me the future that connects to the ancient origins of human creativity and inspired sonic communication. I find his way maybe connected to the old vein of inventing the world anew with available resources and trust in the possibilities of finding new ways for crafts, creativity and beauty that remains from the rough times of the immigrant luck-seekers that went west and can now be found in rural and urban home-made underground avant-garde that goes contrary to any commercial aspirations or interests.
Damian Bisciglia, one of my favorite people and a hidden hero, will be much missed. I hope I get the chance to do what I can to fulfill our old plan and help other people find and enjoy at least some of his recorded treasures, to continue the work he started.
---
Here is another tribute, on Dylan Nyoukis' blog, including a sound clip and a link to a video clip.
---
Contact.
To Bergmark's Welcome page
Updated the 1st of May, 2014.