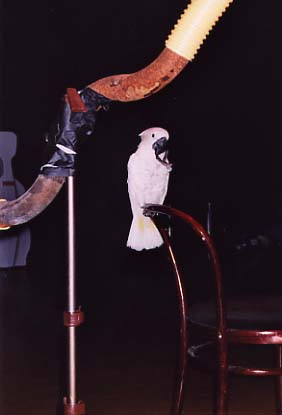 Jocke, the parrot, at a Cloudchamber concert in 2002.
Performances of CLOUDCHAMBER alone, at Aguéli Gallery, Anagram records, Fylkingen, Stockholm.
Tour in England (Mopomoso/Red Rose Theatre; Bonnington, London; Bluecoat Arts Centre (Frakture), Liverpool) june -02.
FYLKINGEN, 19th of December '03 (Küchen absent because of illness).

Notable performances in collaborations:
OSLO IMPRO, April '97 with Mats Lindström, Jindrich Biskup, Martin Klapper.
Eventa 4 Antivernissage Material Music - Nature's Consciousness, Ekeby Qvarn Artspace, Uppsala '98 with Hans Isgren, Amit Sen, Anders Elsås (no), C.O.Caspar (de), Martin Janícek (cz).
Tony Bevan (uk) meets Cloudchamber, Fylkingen, Stockholm, August -99.
The Frim Festival - Sounds -99 at Fylkingen, October -99.
Guests in the Cloudchamber, Fylkingen, with butoh dancers Alexandra Kronqvist and Line Berg; Martin Thulin (analog live film manipulations), Stockholm, September -00.
Byxor i Moln (Trousers in Clouds), Fylkingen, with improvising dancers Katarina Eriksson, Per Sacklén, Helena Franzén, Gunilla Heilborn, Ossi Niskala, Åsa N. Åström, Elina Lehto, March -01.
Cloudchamber & the Bohman Brothers, Fylkingen and Panora (Malmö), with Adam and Jonathan Bohman (UK), October -01.
Cloudchamber & Fredrik Olofsson (visuals), Fylkingen, June -02.
Release party for the CD SAFARIS at Fylkingen, Stockholm, with guest parrot Jocke and cello player Nikos Veliotis (Gr) September -02.
TEXTLJUDDANSIMPROVISATION. three hours improvisation with dance group Räserbyrån (Katarina Eriksson, Håkan Maier and Per Sacklén) and Pär Thörn (text) at Fylkingen, Stockholm, May 2004.

Other collaborations as a group: Sweden: Christian Munthe; butoh dancer Susanna Åkerlund (SU-EN). Norway: Jon Øystein Flink, Bendik Hagerup, Risto Holopainen, Håkon Stene. Germany: butoh dancer Gregor Weber. Holland: dancers Frank Van De Ven, Rolf Meesters.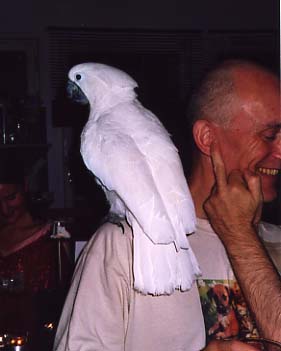 Jocke with Runolf.