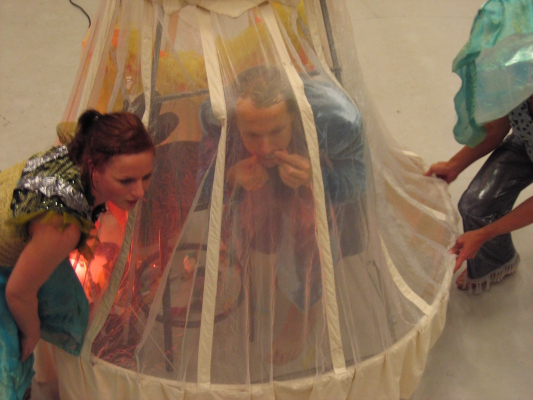 Se Min Kjole! (See my dress!), Karstein Solli Productions, part of the Glitterbird - art for the very young project, coorganized by Dansens Hus, performances part of Ultima Contemporary Music Festival, at Stenersenmuseet, Oslo, '05.
The same production also on tour in Hungary: Kolibri Színház, Budapest; Gárdonyi Géza Színház, Eger; Vaskakas Bábszínház, Győr; Ciróka Bábszínház, Kecskemét, '05.
Again in norway, performances at Kolbotn Kulturhus and Deichmanske Bibliotek, Oslo, and Asker Kulturhus, produced by Dansens Hus '06 - '07.
Then at a conference in Paris at Théatre Dunois, '06.
The next year at Santarcangelo International Festival of the Arts, in Rimini, it, '07.
And at Dansens Hus in cooperation w Ultima Festival, Oslo, '07.
Finally at Mini Midi Maxi, Vestlandske Teatersenter, DNS, Bergen, '07.

Right: Marianne Skjeldal, Johannes Bergmark and Karstein Solli.



---
Contact and upcoming events.
The Welcome page
Updated the 14th of June, 2015.