The Veloncell Marcel is a hommage-copy of Duchamp's famous Bicycle Wheel. The spokes of the wheel on the kitchen stool (and anything on the fork) are amplified through a contact microphone on the hub.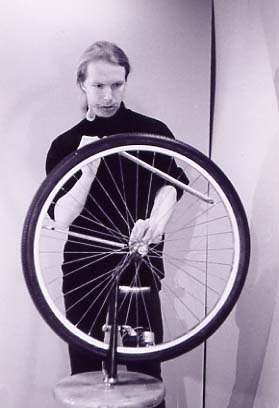 Played with bows, piano hammer ready in mouth.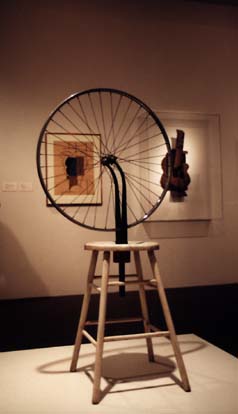 Marcel Duchamp: Bycycle Wheel, an early "ready-made" from 1913, this version at Moma, New York.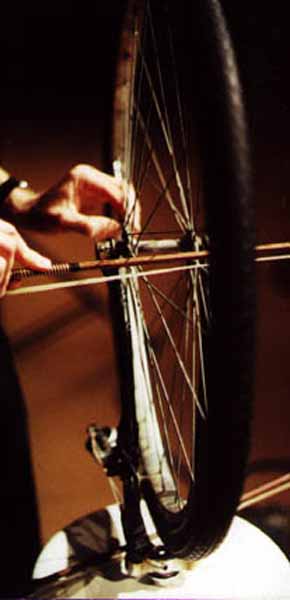 My copy of Duchamp's readymade (made 80 years later), has a tyre and a dynamo, for the electrical sound (and light!) (thus the first "electric" instrument that I have made).

Below it's exhibited as an interactive soundsculpture - it can also be played as an instrument.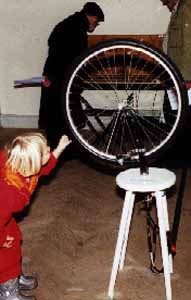 The Veloncell Marcel played by a child at the
Fylkingen
exhibition
Lydbilleder V
(or
Sound as Art as Sound
) at
Museet for Samtidskunst
, Roskilde, denmark, 1999.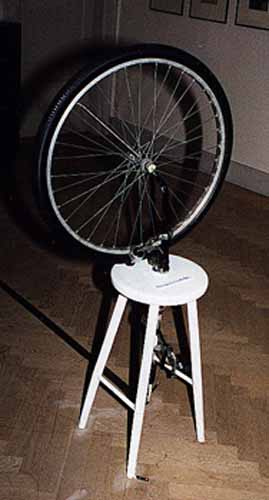 ---
The Gallery
Updated the 28th of Februray, 2019.