Till svensk version
Johannes: creative construction of electro-acoustic instruments based on contact mikes (teenagers to adults).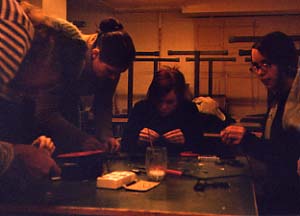 Piezo contact mike soldering at a workshop in Haparanda, Sweden.

Contents, Johannes' workshop:

-Short introduction about my musical instrument building activities in pictures and film.

-Some unusual entrances to musical instrument acoustics.

-Construction of contact microphones (we bring some materials and tools).

-Experimental musical instrument consctruction: searching for sounds and junk.

-Playing exercises, preparations for a concert (for those who wish).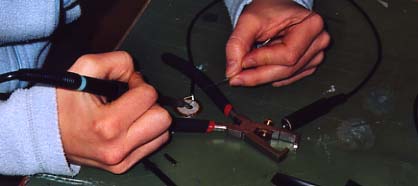 Participants:
- Bring small soldering irons (15-40 W), solder and hand tools if you have, in order to facilitate the workshop.
- Bring all kinds of gadgets that you might want to try making musical instruments of!
Organizers:
- Needs: some tables and chairs, computer projector with some projection surface, electricity.
More about Johannes' pedagogical projects, lectures and workshops.
---
Updated the 27th of July, 2010.