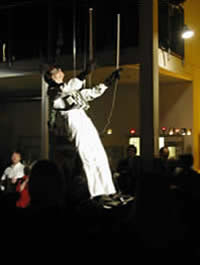 "In the long history of humankind,
and of animalkind too,
those who learn to collaborate
and improvise most effectively
have prevailed."
Charles Darwin
quoted in
---
©
A note on copyright. Unless otherwise stated, the copyright for all contents published under the domain bergmark.org, including texts, pictures, sounds and films, are © by Johannes Bergmark. However, all of it can be copied or reproduced or quoted for
private non-commercial use
. If reproduced or performed, even partly, in public however, it has to be done with proper citation and acknowledgement. Nothing can be reproduced or performed for commercial purposes or on a scale more than personal, without permission. All music is licensed by
STIM
.
---
This page new the 11th of March, 2012.