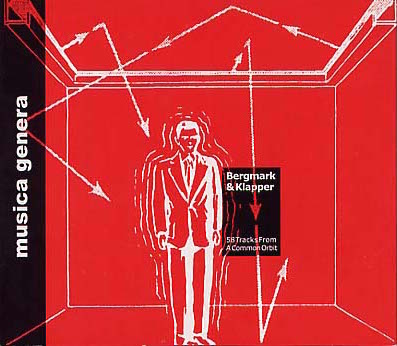 Bergmark & Klapper : 58 Tracks From A Common Orbit
mg005
Johannes Bergmark (right): Finger Violin, voice, micro moog, harmonium, clavinet, Blowfish, objects, junk, Whalefish, gopychand, khamak, fuzz box, toys, Brillolin, arm trainer, radios, Veloncell Marcel, antique corn grinder + dissection
Martin Klapper (DK/CZ) (left): amplified objects, toys, tapes, Casio SK-5, polystyrene, glass, water + assemblage
Recorded by Johannes Bergmark and Sören Runolf in 2000 at Fylkingen, Stockholm (piece no. 1-43) and Artcinema OFF-OFF, Copenhagen (piece no. 44-58).
Edited by Johannes Bergmark.
Cover art by Martin Klapper.
All tracks by Johannes Bergmark (STIM) & Martin Klapper (KODA).
We suggest random playing of this CD.
Released by musica genera, pl, May 2003.
Mp3s of five pieces, and some reviews.
Review by Eugene Chadbourne. [The link seems expired, trying to find a working one...]
Review by The Improvisor.
---
The Welcome page
Updated the 16th of March, 2015.